Chris Pye DVD's
As part of their membership, subscribers to
Woodcarving Workshops.tv
, Chris's online woodcarving teaching site, can stream the complete 'Sharpening',' Ornamental Carving' and 'Lettercarving' DVDs described below.
Professionally produced and directed, these DVDs will get you as close as possible to standing by Chris at his bench. We invite you to join us in the shop for hands-on training in three fundamental carving skills.
Chris Pye's Woodcarving DVDs are available from:
UK: Classic Hand Tools
USA: Tools for Working Wood


1. Sharpening Techniques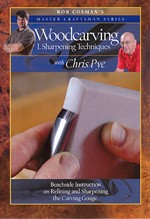 Learn to sharpen your gouges correctly so they work at peak efficiency: it's as important to elegant woodcarving as tuning is to playing your guitar or violin.
The good news is, sharpening is a straightforward skill that you can readily learn and immediately begin applying, once you've been properly shown. And this Chris can do for you.
2. Essential Letter Carving Techniques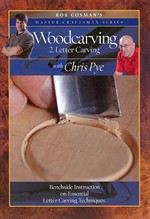 Lettercarving is one of the most useful carving skills you can have.
To cut letters beautifully into wood, you need to do 4 basic things, over and over, only adapting these same tactics to your letter size and shape. Chris shows you how. With the right method from the start, and a bit of practice, you can be carving whole alphabets, in far shorter time than you might have thought possible.
3. Ornamental Carving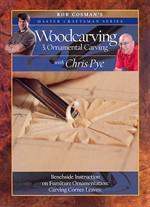 Chris takes you step-by-step from a flat surface to a gracefully finished decorative design. Once you've mastered the model, you can adapt it to a wide range of projects. And along the way, you'll have built an inventory of essential woodcarving skills.
This double CD DVD is over 2 hours long!
Join Chris Pye, have fun, and learn.