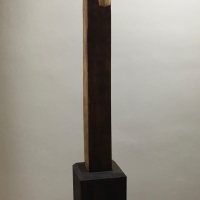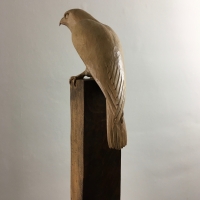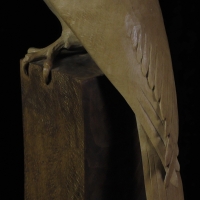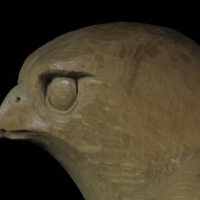 Merlin
This merlin (falco columbarius) took off from a farm gate and coasted with us for about a mile on the wind cushion just in front of our car. She hardly flapped and stayed just so, gliding with a little correcting twitch left and right as we drove downhill between the hedges of our local country lane. After about a mile, she suddenly veered right to another gatepost and nonchlantly watched us pass by.
The little hunter had grabbed a lift - a sort of horizontal elevator - from one perch to the next. It was this last moment of alert insouciance that I wanted to celebrate in this carving.
Material: The Merlin and post are carved from a single piece of London Plane (Lacewood). Oak base.
Dimensions: Bird: lifesize. Total height: 50.5in. 2800mm. Base: 13.5in 340mm.
Price: £ 2950 (plus VAT, shipping and insurance where applicable).